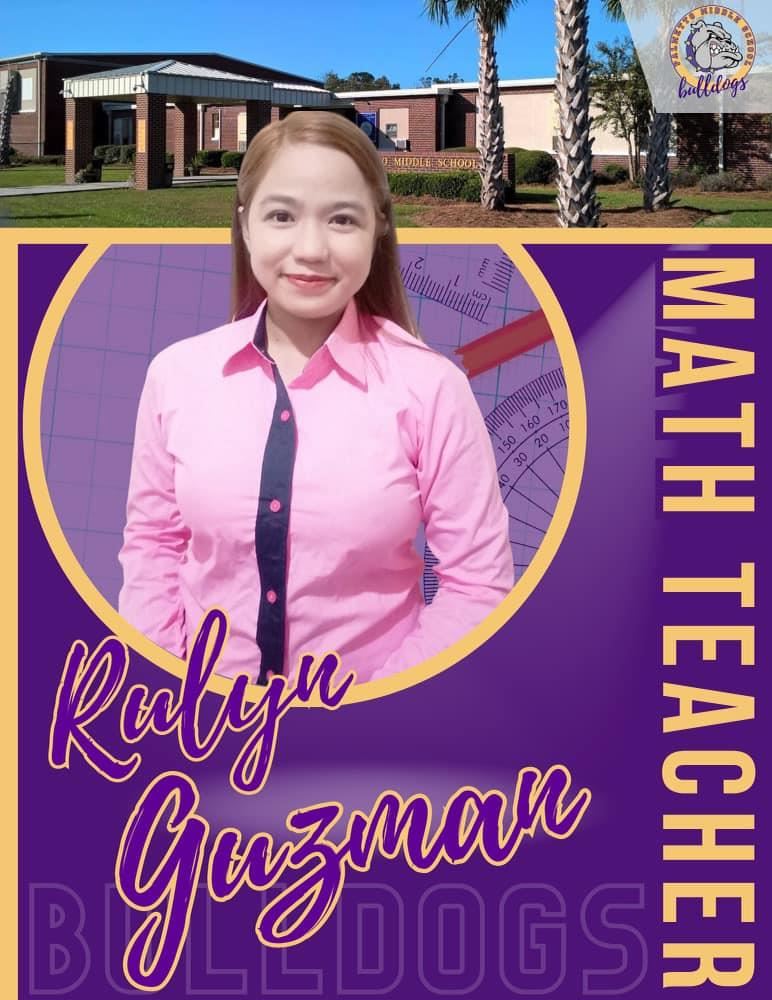 Phone: 843-464-3730 Extn. 5421
Email:
Degrees and Certifications:
Bachelor of Secondary Education major in Mathematics Master of Arts in Education major in Mathematics
Ms.

Rulyn De Guzman

Hello Everyone! 😊

You can call me Ms Guzman or Ms Rulyn and I am a 7th Grade Mathematics teacher. I am an international teacher from the Philippines and this is my first year teaching at Palmetto Middle School and my seventh year in education. I started my teaching career as a Mathematics Instructor for one year at University of Pangasinan where I also received my bachelor's degree and as a Mathematics public school teacher for five years at Dagupan City National High School. Both schools are located in my home country. My love for learning new cultures, educational systems, teaching methodologies and opportunities for career growth directed me to explore the different regions of the world through the lens of an international educator. EPI is the visa sponsor that connects me with great schools in the USA and offered me a Math position at Palmetto Middle School.

I believe that every child is unique and has their own abilities, needs, and dreams. It is my desire to provide an educational atmosphere where they can grow mentally, emotionally, and socially and meet their full potential.

Being away from my home country is a tough decision and can be full of challenges and sorrows. So, let me also share with you my favorite verse amidst hardship, "Do not be discouraged nor be dismayed, For the Lord is with you wherever you go." Joshua 1:9

Your journey towards excellence begins today and I wish you all the best!