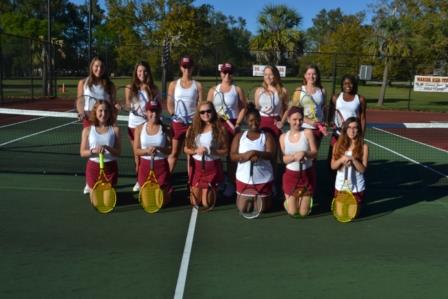 Andi Querubin has been selected to compete in the Girls' State Singles Tournament November 12 - 13 in Columbia, South Carolina. Andi is an automatic qualifier for the tournament because she is the number one player in Region 6-3A. Congratulations, Andi!

Emily Graham has been selected from Marion High School as the female recipient of the Wendy's High School Heisman Award! Emily was selected based on her standout achievements in academics, athletics, and community service. Congratulations, Emily!

The Marion Girls' Tennis Team finished number one in Region 6-3A and made it to the second round of the playoffs with a final overall record of 10-2. This is the third year in a row that our team has won the region championship. Congratulations, Lady Foxes!
Marion Girls' Tennis Roster 2018

Andi Querubin

Emily Graham

Julian Inabinet

Jasmine Wiggins

Morgan Wilson

Hannah Coleman

Reagan Atkinson

Lesile Woodberry

Genesis Caulder

Jakala Finklea

Jewel Grazewski

Hailey Springs

Abby Atkinson