JMS Library Receives DonorsChoose Grant
JMS Library Receives DonorsChoose Grant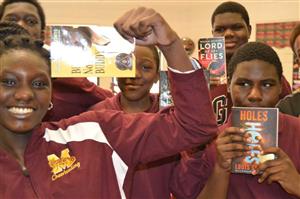 Our library has received a DonorsChoose grant to of tnew books for the JMS media center library, and is pleased to report that the project was 100% funded through the generosity of the Barker Family of Mt. Pleasant, SC. This year and for many years to come our students will be enjoying a wonderful collection of the books they crave. Included are the popular Who Is/Was…" biography series, and acollection of the "39 Clues" series, Our students are over the moon with anticipation and can't wait to check out these books!
Learn about the Who Was series: http://www.whowasbookseries.com/who-was/
Learn about the 39 Clues series: http://the39clues.scholastic.com/info/about
Learn about Mrs. Hunkeler's DonorsChoose project: https://www.donorschoose.org/project/i-believe-in-my-students/3212551/?