Interview By Video!
Interview by Video on Your Own Time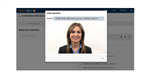 Submit an online application for a teaching position & receive a link to do a video interview when it is convenient for you.
Principals can then review your interview and get back in touch with you. We can't wait to view your interview!
(Note: You must be eligible to be certified to be a teacher in South Carolina.)