Webinars to support families in virtual learning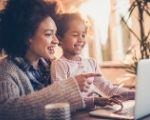 Webinars to support families in virtual learning
More dates have been added!
We understand that the transition to learning at home can be both new and challenging at times for you and your child.
With this in mind, we want to ensure you have the supports you need to support your child in their Marion School District virtual school experience.
This is why we have partnered with the experts at Insight Education Group to provide you with a series of no-cost webinars on how to become an effective Home Learning Coach™.
In the 90-minute Zoom interactive webinars, you'll learn the "secrets of the trade," including just-in-time practical ideas for helping your child be successful.
(Note: If you are seeking support for technical issues related to virtual learning, please contact your child's principal. These sessions are not indented to address specific student or class concerns.)
View brochure for more session information.
Seats are limited so sign up today!
To register:
Registration Code: Marion2020
(There is no cost for Marion School District parents, guardians, or caregivers when you use this code.)
Once you register, you'll receive a confirmation email with the Zoom login.