TableTalk: Talks, Togetherness & Transparency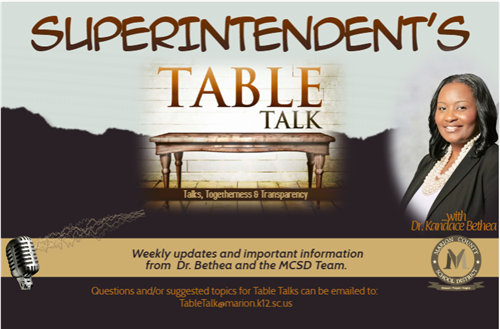 TableTalk: Talks, Togetherness & Transparency
The Marion County School District is excited about a new communication initiative we call TableTalk.
These short programs will be produced weekly giving the Superintendent an opportunity to provide district updates and/or highlight programs that are in our school district.
The goal is to provide talks, togetherness, and transparency for our families and community.
If you would like to see a specific topic covered, email us at TableTalk@marion.k12.sc.us.
All episodes can be seen on our YouTube Channel.
The most recent episode can be seen here: TableTalk: Social-Emotional Learning along with the PowerPoint: The Essentials: Supporting Adults & Students in Marion County School District