Living Room Listening Sessions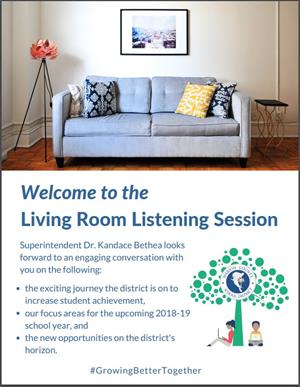 Using a unique venue, the living room, Dr. Kandace Bethea is on a mission to better connect with our community stakeholders by engaging in Living Room Listening Sessions.
Over the summer and fall, Dr. Bethea will be facilitating stakeholder sessions in living rooms across the county. The sessions are hosted by community members with 8-10 attendees.
On June 27, she kicked off the initiative in the Marion area. It was a lively discussion centered around district initiatives, challenges, successes, and future plans.
A special thank you to Mrs. Cindy Rogers for hosting this first session. Thank you to all of the participants as well!
If you are interested in hosting a session, please contact Deborah Wimberly at (843) 423-1811 or send her an email.
Follow us on Facebook as we are #GrowingBetterTogether!