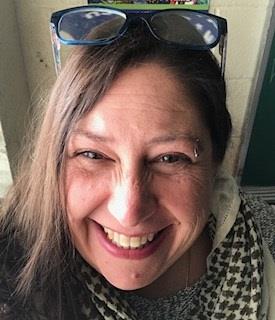 Phone: (843) 423-2571 ext. 3644
Email:
Degrees and Certifications:
BA--English MA--Teaching MA--Writing
Ms.

Pamela C. Dellinger

Though I have lived in many places, I am a Marion County native, and I graduated (just like I hope you will) from Marion High School. I have a BA in English from Coastal Carolina University, and an MA in Teaching as well as an MA in Writing. I have taught all levels of high school, and I have also taught at Coastal Carolina University, Florence-Darlington Technical College, and Northeastern Technical College. I have taught dual credit English 101 and 102 for Marion County Schools in the past, and am now teaching AP Literature and Compostition, AP Language and Composition, English III, and English IV at Marion High School.

First Semester Schedule:

2nd Block--English III

3rd Block--AP Language and Composition

4th Block--English III

Second Semester Schedule:

2nd Block--English IV

3rd Block--AP Language and Composition

4th Block--English IV

Regular Daily Bell Schedule:

7:45 First Bell

8:05 2nd Bell

8:10 Tardy Bell to 1st Block

8:10 – 9:40 1st Period

9:40 Bell to Transition

9:45 Tardy Bell to 2nd Block

9:45– 12:00 2nd Period /Lunch

9:45—Morning Announcements/SEL

10:30 – 10:55 - 1st Lunch Break

10:55 End 1st lunch

11:0o Tardy Bell

11:02 – 11:27 2nd Lunch Break

11:27 End 2nd lunch

11:32 Tardy Bell

11:35 – 12:00 3rd Lunch Break

12:00 All classes transition

12:05 Tardy Bell to 3rd Period

12:05 – 1:35 3rd Period

1:35 Bell Transition

1:40 Tardy Bell to 4th Period

1:40 – 3:10 4th Period

3:10 Dismissal

All of our course materials can be found on Schoology, but our syllabi are accessible on this page.

Our more active page can be found at this link.

A blog page with links to student blogs can be found here.