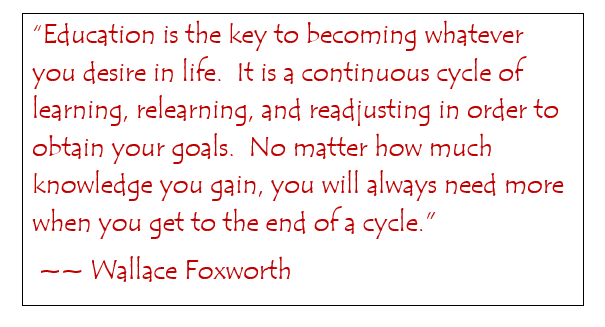 Congratulations to Mr. Wallace Foxworth, our 2017-2018 Teacher of the Year

Mr. Wallace Foxworth is the sixth of eleven children of Lola and the late Shavis Foxworth of Marion. He is the father of four children, Serena, Mekea, Wallace Jr., and Eric, and grandchildren McKenzie and Tabias.

Mr. Foxworth is a lifelong resident of of Marion and worked in the rural cotton and tobacco fields until he graduated from high school in 1973. He served three years in the military and later graduated from Francis Marion University with BS and M.Ed degrees. He has been our 8th grade Social Studies teacher here at Johnakin for 23 years.

Mr. Foxworth is always seeking new knowledge to share with his students. He has attended the National Endowment for History's Summer Institute "Trail of Tears" to learn about Cherokee Indians, the their "Reconstruction: The Untold Story" to learn about life for newly freed slaves after the American Civil War, and Purdue's Summer Institute on Plessey to Brown to study the plight of African Americans from the Jim Crow Era until the Modern Civil Rights Era. Plus, he has been honored to receive the DAR South Carolina Outstanding Teacher of American History award. He stays busy taking pictures of historical sites, working with historical organizations, and interacting with people about local histories and histories of historical sites. When he can find the time, he enjoys fishing. He also likes to read historical books and the Bible, and doing historical presentations when invited to do so. He is also the assistant pastor at his church and Youth Auxiliary advisor.

Mr. Foxworth's philosophy of teaching history is to strive to make his students become history detectives/self learners. He directs them through the proverbial "door of knowledge" in order for them to acquire the necessary tools to function and give back to the greater society.